In the largest and most ferocious fire season to date, droves of registered clubs stepped up in support as intense fires blazed across the state. Many acted as official and unofficial evacuation centres and Neighbourhood Safer Places, supplied food and shelter to displaced residents and volunteers, provided safe spaces for pets and other animals, and were collection or drop off zones for donated goods. 
This activity epitomises the purpose of clubs - built to serve the community. Below are a number of initiatives ClubsNSW has activated in response to the current emergency, aiming to assist and show appreciation for the Rural Fire Service so bravely fighting these fires on the frontline, and to support the clubs which have been impacted directly and indirectly by the fires. 
Jump to:
Express Interest: Clubs Helping Clubs Insurance Guidance  Counselling Grants & Concessions
'Clubs Helping Clubs' Direct Support
Clubs are reminded they can provide direct support to bushfire-affected clubs through the ClubGRANTS scheme.
A note from the CEO of Bankstown Sports, Mark Condi:
"In our discussions with ClubsNSW, I was informed that there are a huge number of clubs on the South Coast that are significantly affected by bushfires and also acting as evacuation/community crisis centres during this time.
Narooma Golf Club is just one example – its operations have shut down while it provided emergency relief. On New Year's Eve the club provided shelter and food to 500 people and their pets. Since then the club has been closed as it has no access to power, needs to boil its water and its supplies have been exhausted with its main arterial road to Canberra expected to remain shut for at least two months. Despite the challenges, the club intends to remain a vital hub for the community and be a viable place of employment for its staff.
There are many other clubs on the South Coast that are similarly affected. These clubs need our help in providing emergency relief and support to rebuild their communities.
There is nothing more tangible than helping another club do what it can to get their community back on its feet.
I am calling out to all clubs that have the capacity to direct Category 1 ClubGRANTS funds to these efforts. To do so, contact ClubsNSW and express your desire to assist these affected clubs and their communities. ClubsNSW will provide a recommended list of those in need, and will then put you in touch directly."
Clubs Helping Clubs Direct Support So Far

Bankstown Sports Club

Tomakin Sports & Social Club

Sussex Inlet RSL

Pambula Merimbula Golf Club

Moruya Bowling & Recreation Club

Mollymook Beach Bowling & Recreation Club

Bodalla Bowling & Recreation Club

Merimbula RSL

Tathra Beach Country Club

Tumbarumba Golf Club

Broken Hill Musicians Club

Batlow RSL
Campsie RSL Club

Bermagui Country Club

Narooma Golf Club

Lake Conjola Bowling Club

Munmorah United Bowling Club

Talbingo Country Club
Parramatta Leagues Club

Moruya Golf Club

Tuross Head Country Club

Eden Fishermen's Recreation Club

Tura Beach Country Club

Belmont 16 Foot Sailing Club

Catalina Country Club
Toongabbie Sports Club

Lake Conjola Bowling Club
Wests Illawarra

Lake Conjola Bowling Club

To express interest, please complete the online form below. To learn more or discuss any questions, please contact the ClubsNSW Media & Communications Team.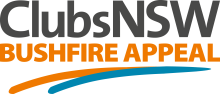 The ClubsNSW Bushfire Appeal in support of the Rural Fire Service was launched in November 2019 to raise funds to support the firefighting agency, particularly in relation to the purchase of much-needed equipment. The money raised will also go towards holding a series of appreciation events for volunteers.
ClubsNSW initially made a donation of $50,000 to kick-start the appeal and was soon joined by a number of clubs and corporate partners who have made substantial contributions. 
The appeal is ClubGRANTS eligible. The ClubGRANTS scheme enables clubs to provide unlimited Category 1 and Category 2 funds for services to victims of natural or other declared disasters that occur in NSW. ClubsNSW encourages member clubs to consider making a ClubGRANTS donation to assist relief efforts. Clubs that do not qualify for the ClubGRANTS scheme may wish to consider providing support regardless.
The appeal remains in operation and to date, more than $500,000 has been pledged. To obtain deposit details, please contact the ClubsNSW Member EnquiriesCentre.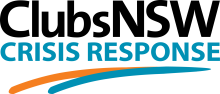 ClubsNSW has launched a dedicated Crisis Response Team to assist clubs impacted by the ongoing bushfires. 
The ClubsNSW Crisis Response Team has been formed following feedback from clubs needing assistance in a range of areas, including:
Access to free counselling for club staff and club members
Navigating insurance claims and business recovery
Assistance accessing government funding and support
Media and communications assistance
Workplace relations and employment advice.
Affected clubs requiring assistance should contact the ClubsNSW Member Enquiries Centre.
 
Counselling Services Insurance Guidance  Grants & Concessions