Major Party Commitments
In advance of the 2019 NSW election, ClubsNSW invited the major parties to outline their positions on a number of club-related issues should they form government.
Coalition Memorandum of Understanding
In 2010, ClubsNSW signed a Memorandum of Understanding with then NSW Premier Barry O'Farrell and then Minister George Souris, entitled "Strong Clubs, Stronger Communities".  A second MOU was signed in 2014 with then NSW Premier Mike Baird and then Minister for Hospitality, Gaming and Racing, Troy Grant, entitled "Resilient Clubs, Resilient Communities".
Four years later in October 2018, ClubsNSW CEO Anthony Ball and ClubsNSW Chairman Peter Newell signed a subsequent Memorandum of Understanding with NSW Premier Gladys Berejiklian and Minister for Lands and Forestry, and Minister for Racing Paul Toole MP, entitled "Building Strong Communities". The MoU cements the NSW Government's commitment to supporting the club industry in NSW and the good work that they do throughout the community.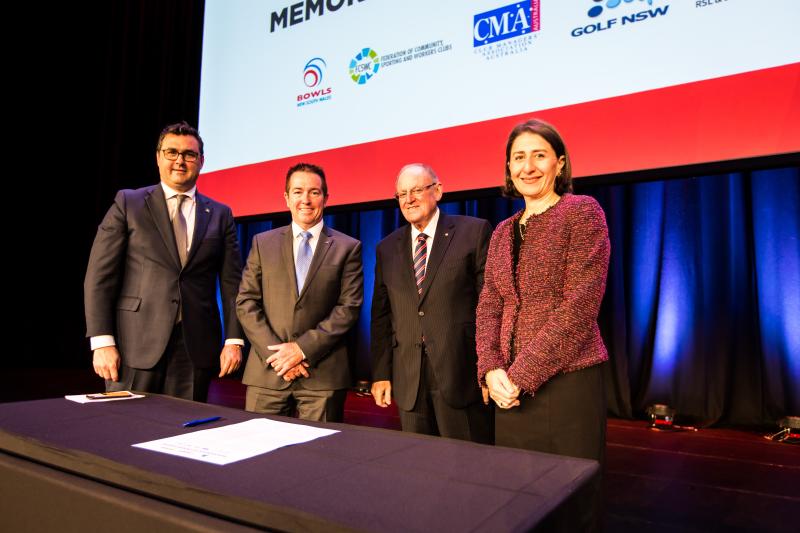 ---
NSW Labor Club Policy Platform
In March 2019, NSW Labor released their club policy platform for state election.
Labor recognises the importance of clubs and the role the industry plays in serving local communities across NSW.
Central to this is NSW Labor's commitment to maintain the current gaming tax regime and gaming machine operating conditions over the next four years should they be successful in forming government. NSW Labor has also made policy commitments in a range of other areas including working with ClubsNSW to investigate the implementation of a portable long-service scheme for club employees, as well as legislating a third-party self-exclusion scheme for problem gamblers.