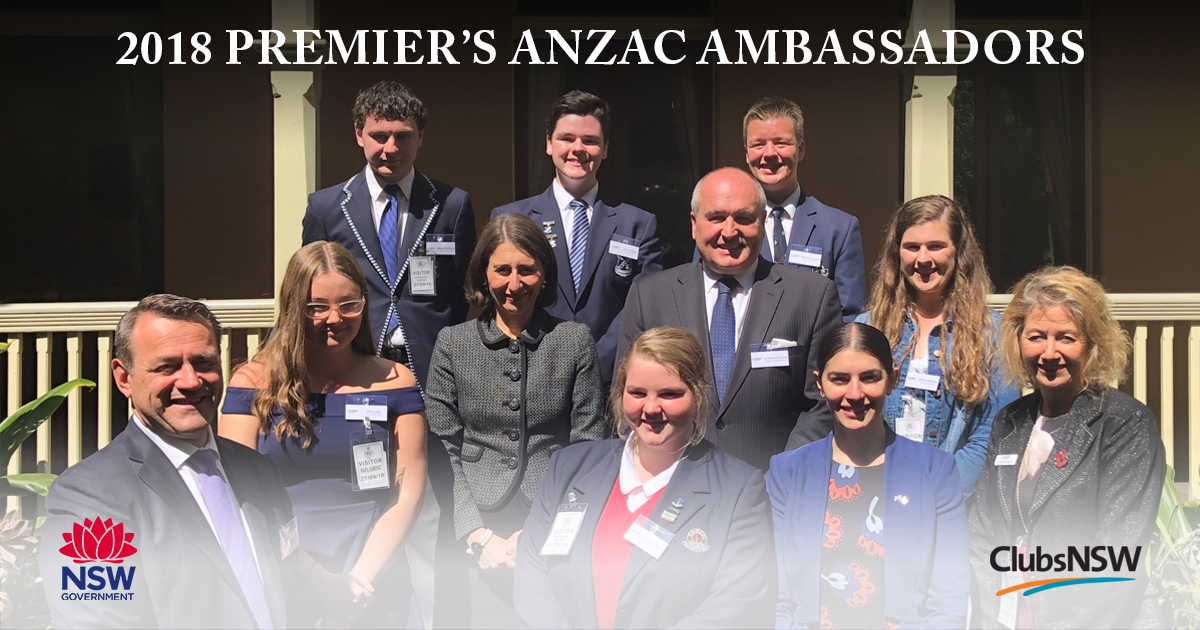 Six young people from across New South Wales are being given the chance to take the trip of a lifetime to historic battlefields overseas.
The initiative, funded by ClubsNSW, will see six students travel to Athens and Lemnos in Greece, Villers-Bretonneux in France, Passchendaele in Belgium, and London as part of a 10-day tour in October.
The winners were announced at NSW Parliament House on Thursday 27 September. They are Seleukos Sofianidis, Oscar Moysey, Benjamin Capovilla, Ellen Lavis, Yasmin Jimmieson and Mackenzie McEvoy-King.
A record number of entries were received or this year's program. Students were required to submit a 1000-word essay which answered the following question: Why is the Centenary of Anzac important for Modern Australia? 
Premier's ANZAC Ambassadors 2017
Hunter Leech, Brindavani Sritharan, William Foster, Eloise Cooper, Oliver Litchfield and Eeva Lehtonen were the six deserving students who stood out above the rest in 2017. Their thoughtful submissions coupled with already impressive resumes places them in good stead to represent our state internationally, and promote the Anzac spirit for years to come. 
The group visted Athens, Lemnos and Crete, followed by a tour of Israel to commemorate the Centenary of the Charge of the Fourth Light Horse Brigade at Beersheba. They were accompanied by ClubsNSW Chief Executive Officer Anthony Ball, NSW Veterans Affairs Minister David Elliott, Rockdale MP Steve Kamper, and Miranda MP Eleni Petinos.